Mordekaiser
the Iron Revenant
Feature:

Fighter
Champion Statics
STAT / LEVEL
LV.1 (+per LV up)
LV.18
STAT / LEVEL
LV.1 (+per LV up)
LV.18
Health
530

(+78)

1856
Mana
-
-
Hp Regen
4

(+0.3)

9.1
Mana Regen
-
-
Attackdamage
61

(+5)

146
Armor
25

(+3.75)

88.75
Attack Speed
-
-
Magic Resist
32.1

(+1.25)

53.35
Attack Ranged
175
175
Movement Speed
325
325
STAT / LEVEL
LV.1 (+per LV up)
LV.18
Health
530

(+78)

1856
HP Regen
(per 5sec)
4

(+0.3)

9.1
Attack Damage
61

(+5)

146
Attack Speed
-
-
Attack Ranged
175
175
Mana
-
-
Mana Regen
(per 5sec)
-
-
Armor
25

(+3.75)

88.75
Magic Resist
32.1

(+1.25)

53.35
Movement Speed
325
325
Champion Skill
A percent of the damage dealt from abilities is converted into a temporary shield, absorbing incoming damage.

COST: 0 Health
COOL TIME: 10/8.5/7/5.5/4
RANGE: 600

Mordekaiser's next three attacks deal escalating bonus damage.

Harvesters of Sorrow

[ W ]

COST: 25/35/45/55/65 Health
COOL TIME: 12/11/10/9/8
RANGE: 1000

Coats an ally in magnetic metal, increasing each unit's movement speed toward one another. While near one another, the metal swirls violently dealing damage per second to enemies.

Siphon of Destruction

[ E ]

COST: 24/36/48/60/72 Health
COOL TIME: 6/5.75/5.5/5.25/5
RANGE: 700

Mordekaiser deals damage to enemies in a cone in front of him. For each unit hit, Mordekaiser's shield absorbs energy.

Children of the Grave

[ R ]

COST: No Cost
COOL TIME: 120/105/90
RANGE: 650

Mordekaiser curses an enemy champion or the Dragon, stealing a percent of their life initially and each second. If the target dies while the spell is active, their soul is enslaved and will follow Mordekaiser as a ghost.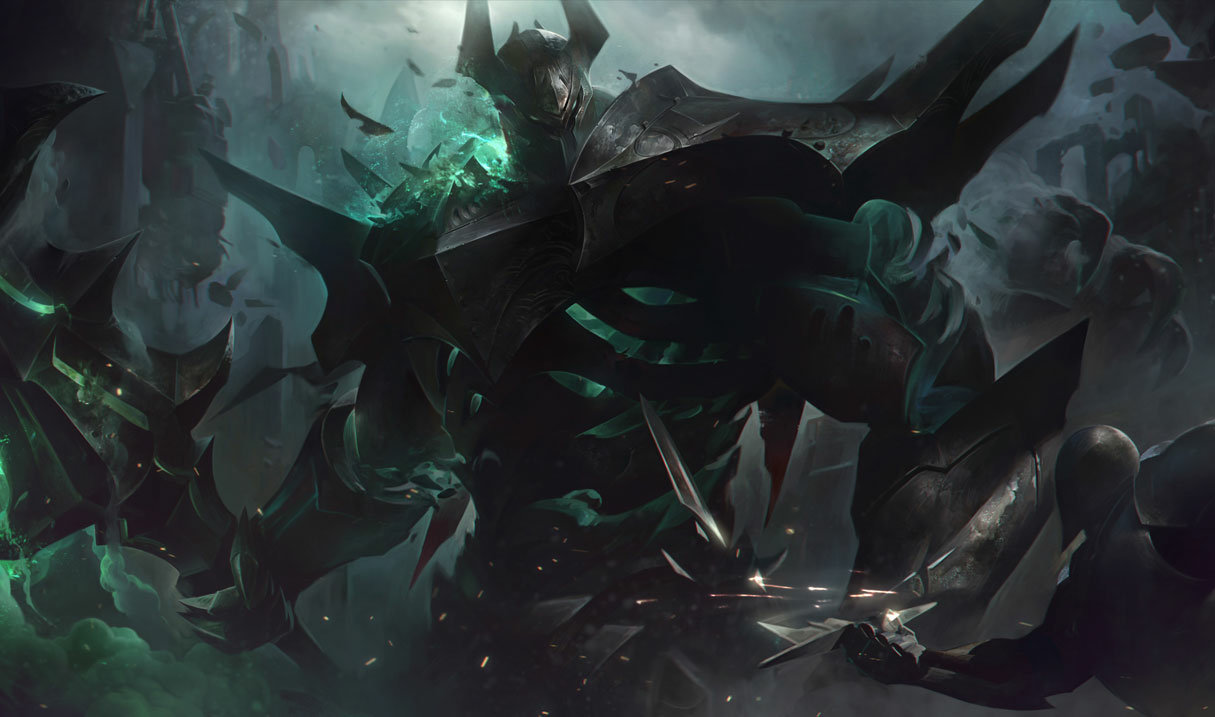 Champion's Story
The baleful revenant Mordekaiser is among the most terrifying and hateful spirits haunting the Shadow Isles. He has existed for countless centuries, shielded from true death by necromantic sorcery and the force of his own dark will. Those who dare face Mordekaiser in battle risk a horrific curse: He enslaves his victims' souls to become instruments of destruction.
Time
Player
W/L
KDA
Last Items
Spells

8 hours ago

TSM Bjergsen

Defeat

1

/

6

/

0

1 week ago

Splyce Sencux

Defeat

1

/

6

/

3

4 weeks ago

CLG Darshan

Defeat

0

/

6

/

2

Nov 13, 2018

FIN Viper

Defeat

6

/

5

/

4

Nov 4, 2018

kt Deft

Defeat

2

/

11

/

7

Oct 24, 2018

MVP MaHa

Victory

5

/

6

/

7

Oct 20, 2018

Splyce Kobbe

Defeat

3

/

7

/

7

Oct 16, 2018

Afreeca Kiin

Defeat

1

/

5

/

2

Oct 6, 2018

Jin Air Teddy

Victory

5

/

2

/

12

Sep 21, 2018

kt Deft

Victory

2

/

3

/

7

Sep 11, 2018

kt Deft

Defeat

2

/

9

/

5

Aug 29, 2018

kt Deft

Defeat

4

/

10

/

15

Aug 28, 2018

kt Deft

Defeat

2

/

9

/

4

Aug 27, 2018

kt Deft

Victory

1

/

1

/

2

Aug 27, 2018

KZ Rascal

Defeat

0

/

8

/

2

Aug 22, 2018

HLE Sangyoon

Victory

3

/

2

/

7

Aug 6, 2018

FIN Tarzan

Victory

9

/

6

/

11

Aug 6, 2018

FIN Chovy

Victory

6

/

4

/

2

Aug 6, 2018

H2K Nuclear

Victory

4

/

9

/

8

Aug 4, 2018

KZ Cuzz

Victory

2

/

6

/

12