Ezreal
the Prodigal Explorer
Feature:

Marksman,Mage
Champion Statics
STAT / LEVEL
LV.1 (+per LV up)
LV.18
STAT / LEVEL
LV.1 (+per LV up)
LV.18
Health
491

(+86)

1953
Mana
360.6

(+42)

1074.6
Hp Regen
4

(+0.55)

13.35
Mana Regen
8.092

(+0.65)

19.142
Attackdamage
60

(+2.5)

102.5
Armor
22

(+3.5)

81.5
Attack Speed
0.625

(+1.5%)

0.784
Magic Resist
30

(+0.5)

38.5
Attack Ranged
550
550
Movement Speed
325
325
STAT / LEVEL
LV.1 (+per LV up)
LV.18
Health
491

(+86)

1953
HP Regen
(per 5sec)
4

(+0.55)

13.35
Attack Damage
60

(+2.5)

102.5
Attack Speed
0.625

(+1.5%)

0.784
Attack Ranged
550
550
Mana
360.6

(+42)

1074.6
Mana Regen
(per 5sec)
8.092

(+0.65)

19.142
Armor
22

(+3.5)

81.5
Magic Resist
30

(+0.5)

38.5
Movement Speed
325
325
Champion Skill
Rising Spell Force

[ Passive ]

Ezreal gains increasing Attack Speed each time he successfully hits a spell, stacking up to 5 times.

COST: 28/31/34/37/40
COOL TIME: 5.5/5.25/5/4.75/4.5
RANGE: 1150

Ezreal fires a damaging bolt of energy which reduces all of his cooldowns by 1.5 seconds if it strikes an enemy unit.

COST: 50/60/70/80/90
COOL TIME: 9
RANGE: 1000

Ezreal fires a fluctuating wave of energy, dealing magic damage to enemy champions, while increasing the Attack Speed of allied champions.

COST: 90
COOL TIME: 19/17.5/16/14.5/13
RANGE: 475

Ezreal teleports to a target nearby location and fires a homing bolt which strikes the nearest enemy unit.

COST: 100
COOL TIME: 120
RANGE: 20000

Ezreal winds up for 1 second to fire a powerful barrage of energy missiles which do massive damage to each unit they pass through (deals 10% less damage to each unit it passes through).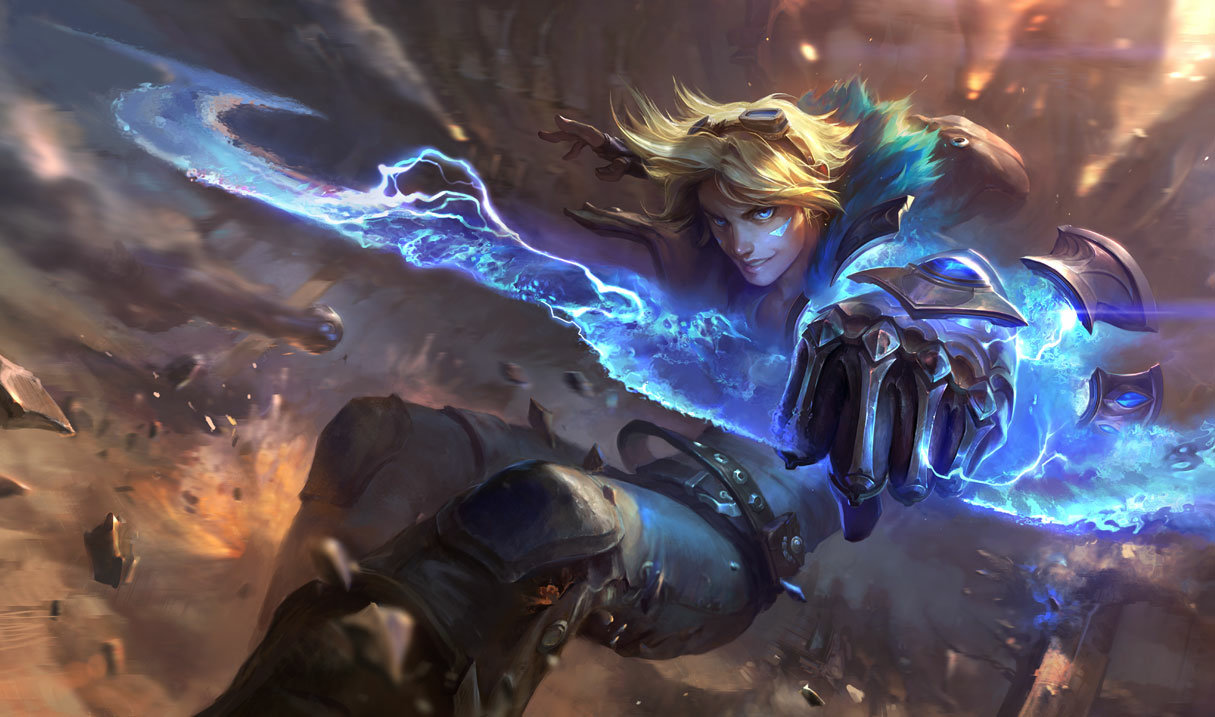 Champion's Story
A self-assured Piltovan explorer with an uncanny ability to find his way into and out of trouble, Ezreal travels Runeterra in search of adventure. Armed with a magical gauntlet procured from the ruins of ancient Shurima, he seeks out the world's most cryptic mysteries. Ezreal fires bolts of mystic energy, shifting through treacherous, uncharted places with a cocky grin on his face.