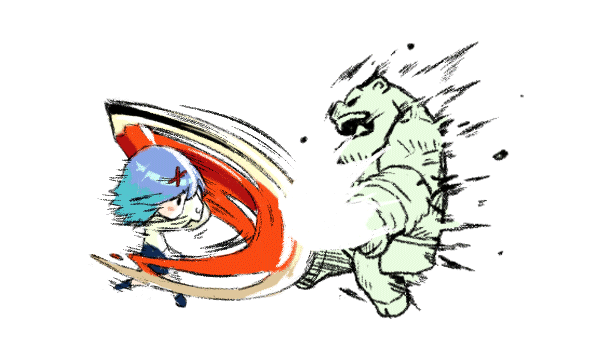 There was a game called Tap Tap Devil Book which received positive feedback on its 2D cell-animated graphics. It has been a year since the devs' interview with us last March, and we wanted to see how things were going. Thankfully we found the opportunity to see the developers once again at SPACE X, the small and medium business hall hosted as part of the PlayX4 2018 at Kintex, Ilsan.

The Devil's Book - Book of Fate was first introduced as the Tab Tab Devil Book by Starter at the beginning of last March. There are a number of changes we found when we saw the title again. The genre has changed from MORPG to MMORPG, more character animations were added, along with various content, including guild houses.

We were able to try the demo of Devil's Book at their booth. Combat was generally done with a tag system in which you swipe between three characters by sliding on the screen. You can move your character by tapping, target and attack by tapping and set the range of a skill by dragging. Although motions were not that diverse as it was just a demo, we could confirm the cheerleader's smooth dance which was cell-animated in 2D, and there was even a decoration system which allows players to dye parts of the character such as hair and attire.



The title is expected to release at the end of next month. "There have been many people giving us meaningful feedback", said Jang Bae Hong, Director of Starter. He added that some of the feedback and questions involved profit-related matters for the company. "We want to earn a lot too, but what matters now is to make the game fun."

"We strive to have a reasonable business model." The director aspires to have a business model that satisfies both the company and the players. We were able to hear about his other ambitions and the story behind Devil's book.
---
Q. We interviewed you in last March, and it's been a year since then. How has everything been going so far?

We were developing it to be a MORPG when we had an interview last time. We planned to release it during the year of 2017, but it had to be postponed because we had to add more content as the genre was changed.

Q. The working name was Tap Tap Devil Book, what's the official title going to be?

Devil's Book - Book of Fate. We couldn't simply remove the word Devil because it's been with us for quite a long time, so to speak, but a bigger reason might be that everyone couldn't really be bothered (laugh). We couldn't really think of a better name.


Devil's Book, from MORPG to MMORPG
The change in genre and more various character motions

Q. What was the reason you changed the genre?

First off, there are too many MORPGs out in the market. We do have our own style, but we thought that it was going to be a bit difficult as the market is already saturated. On top of that, our PD said that the game will be more suitable as an MMORPG (laugh). So, we changed it thinking that we will make an MMORPG with distinctive 2D animations and actions.

The content itself isn't really different from what we originally had, but the playstyle changed significantly, because multiple actions occur in the open world of MMORPGs, whereas a player exits the completed stage in MORPG. The level design and monster matchings were also slightly changed.

Q. It must be pretty burdensome to work on 2D cell animated characters and backgrounds manually.

VERY (laugh). Fortunately, we don't use huge maps like other 3D MMORPGs. We combined a number of belt scrolls just like Dungeon & Fighters. Although we draw everything by hand, it's actually better than drawing an entire huge map. A couple of pieces were done by having a similar pattern and simply relocating objects as well.



Q. The combat and movement system is driven by tapping. Did you add a virtual controller?

We are working on it, but we thought adding more content comes before that, so we'll update it when players are looking for it after the release. The current system is still the one where you need to tap to move and attack.

Q. The most impressive part of Devil's Book is its unique characters. You mentioned adding 15 characters in the last interview. How many characters will we be able to see in the official version?

There are 9 completed characters. In accordance with our schedule, we'll add 12 characters before the official release. Our objective is to have this number of characters for now as there are more character motions.

We showed combat-related motions in the last interview, but we added social actions which include characters dancing and whatnot and they will continue to be updated. Our strength is art. That's why we had to realize this part as best as possible, and the way to do so was adding more distinct and cute animations. It's quite difficult to find an MMORPG with a plenty of social actions. So, we added various motions thinking that it would be cute and awesome if players can see the characters we designed dancing around.



▲ Various animations have been added apart from combat motions

Q. Unlike favorable comments with character motions, there was a lot of criticism on the UI. How was it improved?

We tried our best to improve it, and it looks much more organized than before. We will continue improving it.

Feelings of an offline meetup at a guild hall
Devil's Book's gameplay and content

Q. There was a couple of Lord of Dice cards in the gameplay trailer. Is there any relevance?

NGEL GAMES is our publisher after all, and both titles are 2D illustration-based games, so we thought it would be a good collaboration if we use it as in-game resources. Not only did we add cards, there's also an in-game character called Yuri who is also one of the main characters of Lord of Dice. Many more characters from Lord of Dice will appear in Devil's Book as part of the art style.

Q. Can we expect more collaborations apart from Lord of Dice?

We are always open. Who knows? One of the One Piece people may become interested and Luffy may show up (laugh).

Q. The Art Director must be stressed out because of having to create so many character animations (laugh).

Well, it was his choice doing the cell animation after all (laugh). I'm pretty sure that he still likes what he chose.



▲ All the cute animations were hand-drawn

Q. There are many elements including cards and equipment in the game. How does the gameplay work in Devil's Book?

It is generally about upgrading your gear. Most MMORPGs require you to obtain gear at random and upgrade them. If you fail, you gather more materials and try again, and so on. This process repeats. If you feel like you are going nowhere, that's when you pay for extra items, and we thought that the stress coming from this process isn't really good. Of course, we as gamers pay quite a lot of money and sometimes get upset as well (laugh). But, we don't want Devil's Book to be that kind of game.

People call it a "good" business model when a player obtains all kinds of resources if you spend some time, and payments are only made for changing appearances or faster gameplay. Devil's Book is pretty similar to that. The gear is already given at the start of the game and you don't need to obtain dropped items, but upgrade them instead. Also, there's no upgrade failure, and you slay monsters in order to obtain the main materials.

The card system features various strategic elements such as changing your attack attributes without impacting the character's actual stats. It will be out through the random box system, and although we do understand that some paying users will be able to get more than the others to some extent, we didn't really want the game to be "unfair" like any other games which are all about comparing character's stats. We are still discussing it.

In summary, you can definitely upgrade the gear as long as you have the appropriate materials, and the card system is to diversify in-game patterns.


Q. What kind of content will players be able to see upon the game's release?

The card system won't have all the cards yet, and players can enjoy general content including the MMORPG field battle, quest play, dungeons, PvP, guild, and party play with friends.

Q. We saw a group of characters gathering up at the guild house. How does the guild system work?

You don't only get nice gear and fight to the death in the game. Communication can also be part of your motivation to play the game. That moment when guild members greet you even if you log on after a number of months - that's the feeling of real-life encounters that we transferred online to the game.

People play mobile games for a short period of time and quit. Although any game has a guild system, members gather only when there's a battle, and leave when it's over. We wanted to make a meeting spot in Devil's Book, and that's a guild house. A player can return to the guild house anytime, and chat with others.

Q. The cute design really escalates our expectation. Is there any other content that is expected to be updated?

There's one called housing in which you place and decorate houses with furniture. Like I said before, our strength is art. In truth, another MMORPG isn't anything new, and we believe that our art is what makes Devil's Book quite unique. We tried to come up with content that would maximize this advantage, and housing is one of them.

When you look at the housing in Girls' Frontline, it really drives a player to decorate and place furniture; not because of their stats but because they are "cute", and we found it very appealing.

Q. You introduced the game with a character tag system. I assume that you don't choose one character for playing?

You usually have one character to play and grind - just like usual MMORPGs - and you have another if you would like to try different classes. There's tedium in repeating the same process over and over again. Although we don't disagree with this method, we wanted to something that can emphasize our art style. Simply speaking, we wanted players to meet as many cute characters as possible.



▲ "We wanted players to meet as many cute characters as possible."

This is where some MORPG elements kicked in. Just like a general MORPG where you make a strategic combination of multiple characters, you gather as many characters as possible which are all different in terms of elements and patterns and make a team with three characters maximum. If you are against a boss who is weak against penetration, you make a team with characters who are specialized in penetration. If you are against a monster that is really fast, you bring out a character who can move faster than that, and so on.

Unlike other games that require players to have various characters for strategic fun, we wanted players to use all characters because they are cute. Well, this isn't a usual process (laugh), but we really thought: "These characters are so cute! We want all of them to be out for our players!" For that, we adopted the tag system so that players can enjoy multiple characters almost simultaneously.

"Expected release date will be in Q3, we'll keep our promise"
Devil's Book is expected to be out in Q3 2018


Q. We didn't expect to see you at the PlayX4. How were people's responses at the site?

We didn't expect to see many as there were major developer booths around us including Pearl Abyss and Bandai Namco. But many people actually visited us, and most of them played for around 20 minutes. I feel a bit sad though because all they could enjoy was a couple of skills as it was just a test version without any major content.

Many people were interested in our art design. I personally remember one group of people who seem to be currently working as artists came to our booth. They watched the video displayed on the front for about 10 minutes, watched the autoplay clip for 10 minutes, played the game for 10 minutes, and watched the video again for 10 minutes, and left. They must've watched the same video 8 times in total. "We'll come back later," they said, and really returned.

They asked how many people were engaged in drawing, and I said, one person. They were really astonished and said, "Is he, like, burning his life to the last bit before his death or something? Or, are you paying him a lot?" We do have agencies who help us do the work, but it was him at the start who drew everything from the concept design to actions.

A couple of families also visited and tried a few things. All visitors took their time to have a look around. There were also a number of people who asked various questions, and a few advised us on business modeling and plans. I'll deliver that feedback to my team when I return, and although it will be difficult to adopt all feedback as the release date is pretty close, we'll still confirm details and incorporate as many as possible into our plans. We wouldn't have this feedback if they were not interested, after all.


Q. When will it be released?

Sometime in the 3rd quarter, I believe.

Q. This will be the final part of the interview. Please share anything you would like to say for your future players.

We were really surprised when we saw the interview piece on Inven in last March. So many people left comments as if Inven has some sort of auto-commenting system (laugh). Some of us were about to burst out crying as we were reading comments and saying, "Hey, our game might really work!" We were then concerned so much about the development, and even though we like our art design, we were not that confident if the others will really like it. We were really appreciative of their support and will do our best to repay them. We hope that you like what we will present, and we'll keep our promise to release the title in the 3rd quarter.
More to Read: Photos of High-Quality Cosplays at PlayX4 Where You Could Meet Your Favorite Game Characters
Email : tonny@inven.co.kr
Email : Litte@inven.co.kr