Steven Gerrard, Charles Barkley, Barry Bonds -- these three sports icons have something in common. They're legendary players from their respective sports, but they have no league championship titles. In their cases, having a championship title isn't essential to be recognized as one of the greatest players.

There's a similar player in the League of Legends pro scene. His career may not be as long as the legendary traditional sports players without a championship, but he is one of the longest active players in League of Legends.

This player is Go "Score" Dong-bin, and this is his story.
▣ From StarTale to kt Rolster Bullets
- Taking his first step with kkOma and Ryu

Currently, Score plays in the jungle for kt Rolster. However, as long as his career is, he has gone through more position changes than any other player.

Score first appeared in the League of Legends scene as a member of StarTale along with Kim "kkOma" Jeong-gyun, Yoo "Ryu" Sang-wook, Lee "Vitamin" Hyeong-jun and Won "Mafa" Sang-yeon. Although they're all well-known players now, they were all players from 'Chaos' and very new to the game when they had their debut. Back then, Score used the nickname "Joker".

Joker started off in the League of Legends scene as a top laner and switched positions with Vitamin and headed to the bot lane. During this time, StarTale showed impressive performance by defeating Fnatic in 2012 Champions Spring, but it didn't last for long.

Although they had defeated Fnatic, they weren't able to leave much impact. When Choi "Locodoco" Yoon-seob, one of the biggest stars of that time, joined the team, Joker went back to top lane. However, the team was soon disbanded due to salary issues.

But Joker wasn't done yet -- this was only the beginning. As kt Rolster (KT) made their second team, KT Bullets, Joker joined them along with Ryu and Mafa, and was named as the captain of the team. Here, he changed his nickname to Score, and thus, it was the start of a living legend.

"I'll do my best to deliver good performance so that I won't shame the good kt Rolster reputation."

In one of his first interviews after joining KT have been full of conventional comments, but Score already had the mindset of a pro player when he joined the team. He was a player who knew how to sacrifice, and carried a 'team first' mentality with him always.

KT Bullets was a new team, but they weren't pushovers. Their performance in the LCK was stunning; Lee "KaKAO" Byung-kwon's jungling was amazing, and there was no competition in the mid lane against Ryu. But in the center of KT Bullets' astonishing performance, was Score.



▣ Zero
- Averaging near-zero deaths as an ADC
Consistency and stability is an important virtue for an ADC, and Score had both -- he was a stable ADC who knew how to play the game as a team. He was a bedrock of discipline, prioritizing survival to give his team the highest chance at victory. In four games against KT Arrows during the round of 8 at the 2012-2013 OLYMPUS Champions Winter, this discipline was on full display. Score recorded 13 kills and 24 assists, and miraculously, 0 deaths.

"When it seems like we'll win the fight, I fight, but if it seems like we'll lose, I retreat quickly. It's not for my record; an ADC needs to survive as long as possible for the team's victory."

Fans often criticized Score for being a coward, saying that he pays too much attention to his record, but Score wasn't shaken. He had a strong principle on the game and his position. He held a big responsibility as the captain and the team's ADC. Always prioritizing the team, he believed as an ADC player, surviving as long as possible contributed to the team the most.

As most sports players do, Score couldn't avoid the occasional slump. He was a player that doesn't get the spotlight often. Instead, he does what he is obligated to do quietly in the background. As the team's prowess decreased, there wasn't much left for Score to do. His influence on the game had evaporated to almost zero.

In the 2014 summer season, KT Bullets were relegated after losing to Jin Air Falcons. At that time, the ADC position was the most important; teams that had hard carrying ADCs like Gu "Imp" Seung-bin or Kim "Deft" Hyuk-kyu performed well. In this situation, Score's 'safe' style of play was like poison. Unable to adapt, KT Bullets fell further and further as time went on.

However, there was a significant change coming into the Korean League of Legends scene. Organizations with multiple teams were forced to merge them together, and the tournament-style competition was changed to a full league system. With these changes, Score was ready to lay everything down, back to zero. Although many things had changed, there was something that hadn't changed; Score's attitude of putting the team first.
▣ From ADC to the Jungle
- Jungler with the knowledge of both top and bottom laners' thoughts
"I know of the top laners' unique way of thinking, and also know about the ADCs risking their lives for one minion. That experience helps when I play in the jungle."

Score started his League of Legends career in the top lane, changed to ADC, back to top, again to ADC and finally settled in the jungle. His experience in two completely different positions proved vital to his success as a jungler.

When Score first announced his position change, fans were doubtful. It seemed as the jungle position wasn't the right clothes for Score, whose performance as an ADC was quite passive. Furthermore, Score had to fill in the shoes of Choi "inSec" In-seok and KaKAO, the best junglers in Korea that had played in KT's jungle before him.

On Score's debut as a jungler, all the doubts were silenced. Fans were shocked at Score's aggressive jungling style and did not expect such prowess. In his debut, he picked Rengar and pressured his opponent with extremely aggressive plays. What's more, these aggressive plays weren't against any team; it was SKT T1 -- arguably the best team of all time. It seemed as if Score's Flash was only available to leap forward and he stomped into the opponent territory even when he knew it would lead to his death. His performance was shocking to the fans who had Score's passive ADC performance in mind.

In hindsight, scores performance shouldn't have been that surprising. After all, Score's style of play wasn't just about playing safe; it was about selflessly fitting himself into what he thought the team needed. Score always prioritized the team. Now as the jungler, the team demanded aggressive plays, and Score simply responded.


▣ Runner-up
- When will he finally pass on?

HOT6 Champions Summer 2013 Runner-up
IEM Season VIII World Championship Champion
2015 SBENU LOL Champions Korea Summer Runner-up
2015 LOL World Championship Round of 8
2016 Coca-Cola Zero LOL Champions Korea Summer Runner-up
2015 LOL World Championship Runner-up
2017 LOL Champions Korea Spring Runner-up
2017 Rift Rivals Runner-up
2017 LoL KeSPA Cup Champion
2018 Rift Rivals Runner-up

Fate hasn't been generous on Score, despite being known as one of the best junglers in Korea, or taking a step further, the world. He is the longest active player in the LCK alongside Kang "Ambition" Chan-yong, playing for 16 consecutive seasons, but unlike Ambition, he hasn't won a single regular season championship, nor a world championship.

Memes have been created on his many runner-up finishes, comparing him with Starcraft player Hong "YellOw" Jin-ho (who had also played for KT), who is popularly known as the incarnation of runner-up finishes. The number 2 continued to chase Score after he lost the 2016 finals against ROX Tigers having Baron stolen with, coincidentally, 2 HP left on Baron.
※ Note: YellOw is the most famous for his runner-up finishes, yet he's ranked 2nd in the total number of runner-up finishes in Starcraft.

In the following 2016 Korea Regional Finals for Worlds, he again finished 2nd, losing to Samsung Galaxy. The 2017 Spring Split finals was the 2nd year of the LCK system change, and the 2nd time he's lost to SKT 0-3 at the finals. This resulted in Score having 2 straight seasons finishing in 2nd place. His KDA over the three games was 2.

Score ended up in 2nd place in 2017 and 2018 Rift Rivals. In the 2018 Rift Rivals, he didn't lose a single game, but somehow, ended up in 2nd place.

It's true that Score won the championship at the IEM Season VIII World Championship and the 2017 KeSPA Cup, but to most fans, these aren't considered as major competitions.



▣ The God of Smite
- Sarcastic or not?
Another meme that follows Score is the sarcastic moniker: 'the God of Smite'. In reality, Score's Smite fight isn't that bad overall; he's stolen the opponent objectives quite a few times, and on objectives other than Baron, he's pretty good.

However, the meme's origins stem from the many objectives that have been stripped from him in extraordinary ways. Starting from Gangplank's ult, his Baron was stolen by Syndra's skills and even support skills like Braum or Thresh's Q. Mostly, these robberies led to defeat, causing a stigma to develop around Score.


▲Thresh Death Sentence Baron steal

With this in mind, when Score was actually good in the Smite fight to win the championship at the 2017 KeSPA Cup, Lee "CloudTemplar" Hyun-woo called him 'the God of Smite'. Afterwards, another meme of Score acting arrogant was generated.


▣ Signature Pick: Gragas
- Gragas Himself
Score has been good with most of the champions he played, but his Gragas was a sight to behold. So much so, that some fans started to call him 'Gragas himself'. In many games, he carried the team with unbelievable Barrel Rolls, Body Slams, and ults.
This was never more apparent than in the match against KOO Tigers in quarterfinals at Worlds 2015; his Gragas performance was exceptional. Although KT lost, Score's Gragas was inscribed in the fans minds.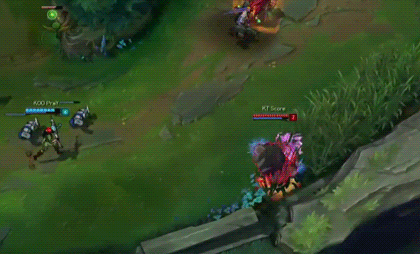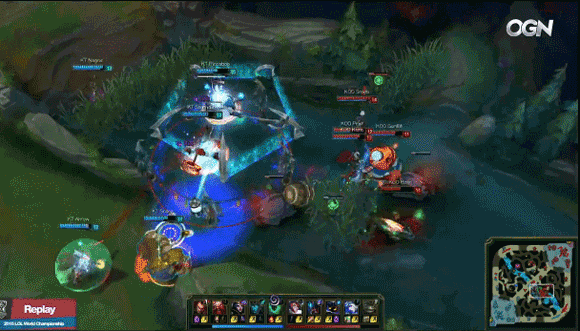 ▲No words can describe Score's Gragas performance better than watching it for yourself.

▣ The Great Jungler, Score
- "The MVP of Game 4 is the great jungler, Score!!" - OGN Caster Jeon Yong-jun
Score has always been devoted to the team. When the team needed him to survive as an ADC, he did his role the best he could. Now, that the team needs him to trade his death for a kill, he's always willing to do so. If the death is meaningful for the team, Score will throw himself wherever the team needs him to be.

His playstyle has changed over the years, but his fundamentals haven't changed. Always putting the team before himself; this hadn't changed a bit from when he first joined KT. Score had aimed to become a team player rather than receiving the spotlight as a star player.

Go "Score" Dong-bin. His shoulders were always heavy with responsibility. As a player, as the team's captain, and as someone who is keenly aware of his fans' expectations. Now, he has laid down his responsibility as the captain for KT but still is as responsible.
"I want to become a 'smart' player like Score. He's my role model." - Afreeca Freecs Lee "Mowgli" Jae-ha

"The other movement of the other junglers of the LCK could be anticipated, but Score's movement was beyond prediction." - LPL Coaching Staff after Rift Rivals 2018

" 'Hi, my name is Go Dong-bin, age 27, zero championships.' " - kt Rolster Cho "Mata" Se-hyeong

"Score is a player that I want to talk about more and praise more. All the words in the world aren't enough to express how good he is." - Lee "CloudTemplar" Hyun-woo

"The living history of LoL and the role model of junglers." - 100 Thieves Kim "Ssumday" Chan-ho

"He's a veteran whose experience sticks out in his performance." - kt Rolster Song "Smeb" Kyung-ho

"A player that looks after the younger players very well." - kt Rolster Heo "PawN" Won-seok

"Score is a player who's always consistently good." - 100 Thieves Yoo "Ryu" Sang-wook

"There are many great pro gamers, but I want to pick Score as the best. His earnest behavior and mindset set a good example to other pro gamers. He has a high understanding of the game, and it gets even higher every match he plays." - Gen.G GM Lee Ji-hoon (Former KT Rolster Head Coach)
Does a LoL player need a championship title to go down in history? Score's iconic place in the annuals of LoL history seems to prove otherwise. Through consistency, teamwork, and discipline, he has lived the dream of becoming a professional esports athlete, and that alone is worthy of admiration. He's a living legend in the scene, and his story is still ongoing.



"Personally, [after I retire], when people hear my name, Go "Score" Dong-bin, I want them to remember me by the player who always showed decent performance."