Ash is the newest playable legend set to release in Apex Legends next week, alongside Apex Legends Season 11. She is a highly anticipated character who was originally introduced in Titanfall 2, and has also been serving as the announcer in Arena's mode in Apex Legends for the past couple of seasons.
Here are all of Ash's abilities in Apex Legends!
Ash's abilities in Apex Legends
Ash is an offensive Legend, like Wraith, Octane, or Revenant. So her role is to initiate fights, deal damage, and control the battlefield with her aggression.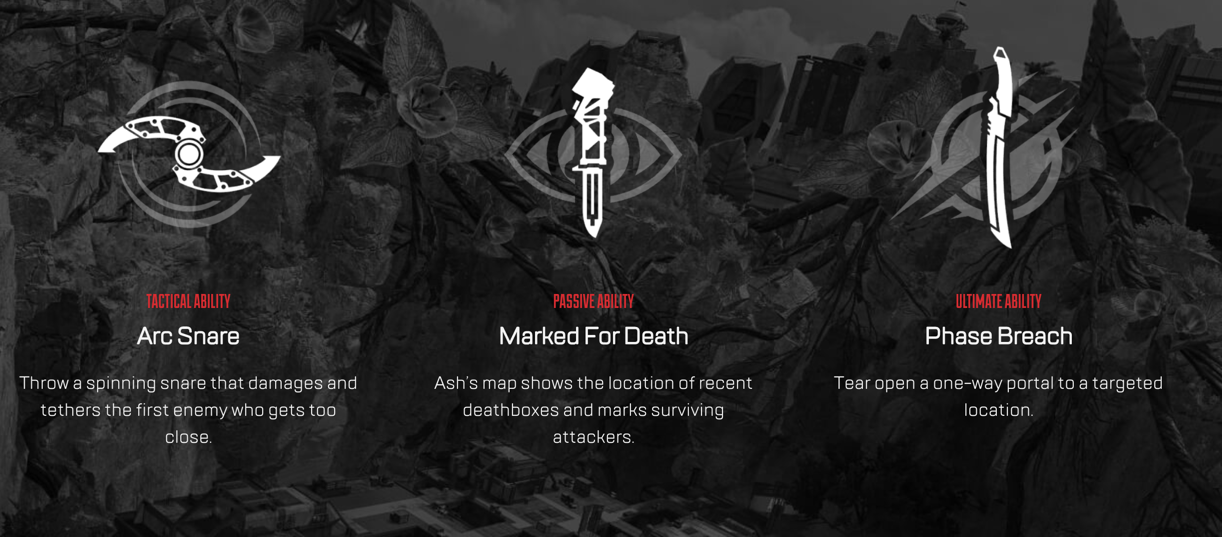 Her tactical ability is called Arc Snare. This ability allows Ash to case a "spinning snare" at enemies, that tether an enemy that gets too close to the trap and deals damage to them. Once they are ensnared, Ash and her squad can move in for the easy kill.
Ash's passive ability is called Marked for Death. This ability reveals the location of recent death boxes and "marks surviving attackers". This is a powerful intelligence ability that will help Ash players understand what is happening across the battlefield, and give her specific intelligence for hunting down players.
Her ultimate ability is called Phase Breach. This ability allows her to "open a one-way portal to a targetted location". She pulls out her blade and can do a longer, faster version of Wraith's tactical ability. This is a powerful rotation ability, that will compliment her aggressive role in the game.
Ash drops next week with Season 11, it will be interesting to see how she impacts the Apex Legends meta.
Aaron is an esports reporter with a background in media, technology, and communication education.