As esports continues to grow, there is an ever-developing relationship between the gaming industry and the food industry. As someone who has cooked professionally for many years, this excites me. I've set out to find the best chefs in esports, and discuss their opinions about the connecting worlds of food and esports.
This time I had the privilege of chatting with Chef Heidi Marsh, an Executive Chef and former team chef for the Philadelphia Fusion.
So first, I wanted to hear how you got into working in the food industry, as well as in esports. What is your history in both spaces?
I started in food service. One of my first jobs was in food service working for Subway sandwiches, and I had that job for seven years. When I started college, I was like, "No more food."
I was gonna be a math and science teacher. My first job in college was working at the cafeteria. So institutional cooking, right? It was great because I got to meet everybody on campus. And I got to learn technique right there. I moved from the institutional cooking to bars and grills to nightclubs and then into ultimately fine dining. And after graduating college, I was in the restaurant industry in the Twin Cities, Minneapolis, St. Paul, for 20 years.
My specialties include things like grand opening Kitchen Nightmares-style, where you go in and fix broken kitchens and put systems in place and teach and train and develop a staff. I kind of got sick of that restaurant roulette. I decided I was gonna move to San Diego.
I didn't know what I'm gonna do out there, just something different. I ended up working for the fishing boat cooking off the coast of Mexico, for fishermen. And then I got a call from a colleague of mine about the esports team.
So I went up and interviewed By then I had a pretty good grasp on specialty diets coupled with the knowledge of nutrition through my experience, and then multicultural cuisine, right? Because that's always been a trend in the restaurant industry is fusion food. There were nine different countries represented in that house. So I wanted to approach that interview that cooking interview with a variety of foods from these different cuisines. And so that's exactly what I did.
So that was kind of like the introduction into esports for me was the Fusion, and just through a mutual colleague getting lined up with them, and they loved it, they loved me. And having kind of that teacher background and understanding and personal communications helped me know my place, so to speak with the team.
What specifically made you want to start cooking? When did you realize that it was a passion of yours?
I think that went hand in hand with the teaching. I am a creative person, I love to create things. I always have, whether it's music, art, etc. But I'm also very analytical, I'm both sides. So I got into the numbers, the chemistry, the physics of cooking, as well, and being able to use all these different skills into one vocation, I felt like that was my calling.
And then not only to do that, but then to teach that to people that—maybe they walked in off the street, they need a job, and they're willing to learn—that I was able to harness them and hone them in some of these folks are now executive chefs. They're running their own restaurants these days, which is a beautiful thing to see that "aha" moment.
Not just to create a dish, or to attend to a recipe, and then make it your own and turn out the final product, it was this gift that I ended up finding.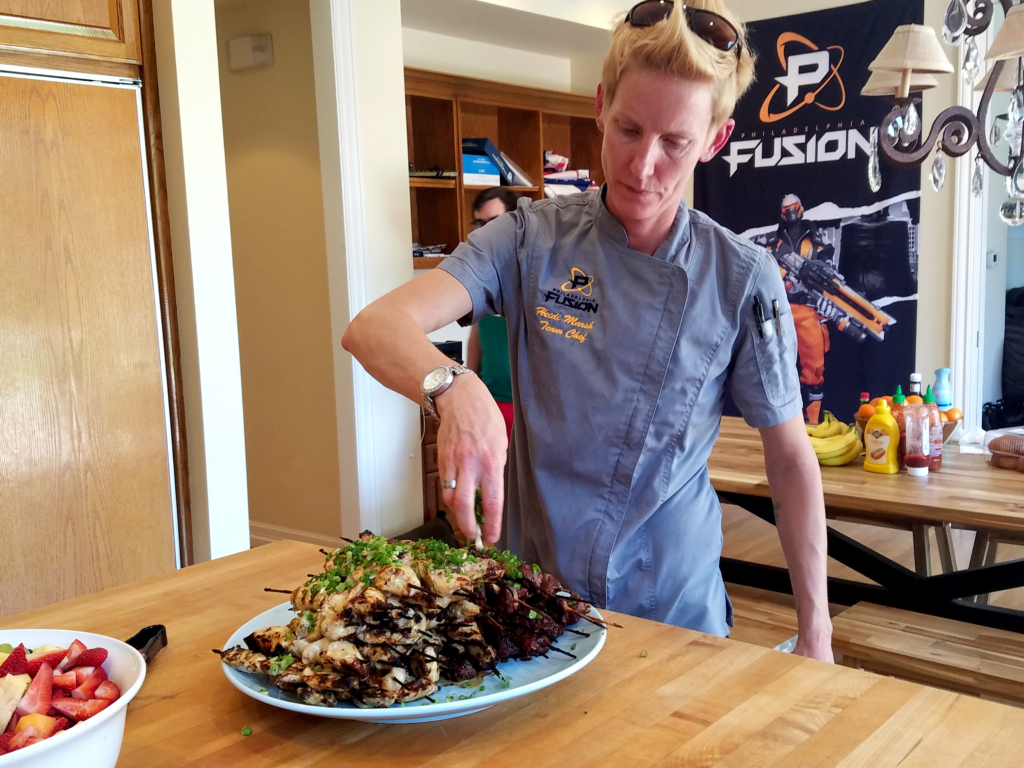 You're someone that's not a long-term fan of esports—you started cooking for the team purely as a job. What was your opinion of esports before working with a team?
I didn't really know much about esports. I didn't know how big it really was, as far as leagues go. I had no clue what that infrastructure looked like. So as I was walking into this, going "Okay, well, this team is owned by Comcast Spectacor. So it's got to be legit."
That's always something I look for in a job. Is there some long-term stability? Not really knowing what to expect, but luckily they have Rosten, who's an amazing job manager and he was helping me gel into that world, explain the game, and explain what he's looking for in diet and routine. He was the guy that just kind of brought it all together for me.
Working in any restaurant can be a very stressful environment, just with the volume of food that comes in. What was working as a team chef like in comparison?
It was like night and day, and I think that's why I jumped at the opportunity. Because after 25 years of being on your feet, 14-hour grind, people calling off stressed out—I was ready for a break from all that.
The opportunity to work in a team setting where, as casual you go in, you're in charge of the groceries, you're in charge of the menu, your clients dictate what you're going to cook for the most part. But you have a lot of freedom to try some new things and be more creative. Then you have the afternoon off and come back and do dinner. So the schedule was way different. That was really nice. I kind of missed that, it was almost like I was retired for a little bit.
I got to be more on-camera involved, too. And make content, which was really fun, really different for restaurant life. Like some kind of move into that in the latter part of my restaurant career was doing live television and some Food Network shows. But this content, creating with the team Fusion was way different—not staged, and not like you have to be a certain way or anything, you got to really let your personality shine through.
Something that I thought was really interesting when I researched previous interviews with you was how you talked about how more than just giving them healthy food you were creating experiences about them.
To me, that's the most valuable thing about cooking as a craft: touching people's lives. Would you mind elaborating on how you did that?
Yeah, so I think creating experiences through food is really important. Food is probably the most personal thing that you can give somebody. If you're braising some short ribs all day long. And you come back at, you know, two hours to dinnertime, and the house is just filled with this aroma. Right? The guys are gathering in the kitchen earlier, coming together. It's not about the game and the stress of the game.
It's now a family life. You know. So you're just through that sense of smell. You're creating this anticipation for dinner, but also, as a byproduct, people are coming together and they're hanging out in the kitchen and they're talking with me and they're asking me questions. Not just what's for dinner, but how's your day and how do you make this and they're getting more involved in their eating and each other as a community.
And I think that's super significant in a team house where everyone's really focused on the game and all that pressure that comes with that if you can. It kind of relieves that pressure and that tenseness just for a little while.
And some of the experiences we had creating content—making ravioli with Joe, and just showing these guys you can do anything you want to do, if you want to learn to cook something, you can do it. We had smilo flipping pancakes in the middle of the night. I saw on Instagram and I'm like "Yeah, you go."
They're getting outside of their comfort zone. And I think that's really important for young people to do that. These guys were young, they were 17 to 19. This is their first experience outside of their parent's house where they might not be like super social individuals because they're behind the screen all the time. This helps them develop those interpersonal relationships and those skills that you need in the real world. So I think that's an imperative part.
And then just to be someone to lean on. They comment they don't feel well? "Oh, let me just whip you up a quick chicken soup from scratch, because I happen to have the stuff." You're a person of support for them. Not just their chef, you know, but someone they can talk to when they don't feel well or something like that.
Beautifully put. What about the variety of your menu? How often did you change things up, were there ever times they told you not to repeat a certain dish?
For the greater part of the first season it was: Wake up in the morning and go, "Okay, what am I going to cook today?" So it wasn't even really planned, I would just go off the cuff. I did a lot of foodie stuff. I tried to hit a lot of those multicultural cuisines and a lot of LA cuisine.
And then it got to the point where Ross and I sat down and said, "Okay, these guys don't like this. They don't like overly sauced things, they don't like some overseas cuisine. They're not making a chicken waffle taco. They're gonna take a waffle. They're gonna take a chicken." So they're not foodie guys, right?
Yeah, they eat in a certain way. You got to be a witness to that and understand your client. They're not always going to tell you. So what we did was we came up with a two-week menu and put it up on the fridge. And that gave them a way to communicate. They'll put smiley faces, stars, frowny faces, because they're shy, they don't want to tell you "I didn't like that." They'll tell you they love it, so they don't want to critique their chef. People are afraid I'm gonna poison the food or something. But obviously, I'm not. laughs
But they gave me a chance to communicate. And then we did a rotating menu. So we had a pasta night. We'd have, you know, hobbies before the game, and then an awesome fillet or surf and turf dinner after the game win or lose. Make a fabulous meal for them and celebrate them because they're successful, win or lose. That was my philosophy. It was just to be very consistent.
And they put a frowny face on something, it goes away. The first week was off cilantro. It's banned from the house, they're their clients. They dictate what they want to eat, you know, and the bottom line is like, I'm there to satisfy them. And as we were getting successful in the seasons and playoffs and things like that: Making cakes, celebrating national pie day, make a pie for fun. So having some fun with it too along the way.
I'm mildly disappointed there were no punishment meals! You're someone that has a lot of experience in the restaurant industry. Let's say a young chef walked up to you and said "Heidi, I need advice, there's this restaurant I have an offer for and also this esports team, I can't decide." What would you tell them?
I think they should follow their heart. Bottom line. It's in your gut what the right choice is. People hesitate because they're out of fear. Right? Today I would choose esports, cooking for a team over any job. I just loved it, you know? Absolutely. Right now I'm running a convention center, so that's a total flip of the coin. Well, it will be once we start conventions, but it's a beast, right?
If they're young and not that experienced, that's okay too, as long as they can get consistent. So as long as they're willing to put in the work and practice things when they're not cooking for the team, like maybe they got to practice something they've never made, you know, kind of have a sense of what they're doing.
Their technique, their style, what their clients are looking for. I mean, you have to kind of know a little bit about Korean cooking if you're going to cook some Korean food, right? Yeah. So my advice would be, you know, try something different. Don't be afraid, you know, most people will know what's right for them.
Do you see yourself returning to esports in some capacity in the future?
Yes. If given an opportunity, absolutely. I would never turn that down. I know, I would like to touch base a little bit about some of the stadiums, if they're going the arena route.
You know, having experience with convention centers and quick service and esports. It's like, I think that's an awesome opportunity to stay in the game, so to speak. Or as a private chef, that in that capacity, that level of intimacy, and working in a team house was probably one of the best experiences of my life.
Thank you so much for the wonderful conversation, Heidi. What's a favorite recipe of yours that you'd like to share?
Ooh, we're sharing secrets. Here's a recipe that the guys really liked.
Shakshuka with Avocado & Feta Ingredients
2-3 Tablespoons Canola Oil
6 each garlic, sliced
1 large white onion, medium diced
2 large red peppers, diced
1 large poblano pepper, diced
1 medium jalapeño, diced
1/2 Cup dry White Wine
2 teaspoons Smoked Paprika
2-3 pounds Diced tomatoes
2 cups Tomato Sauce
1 pound Cured Chorizo or Linguiça Sausage, sliced
8 Eggs, whole, cracked
1/2 Cup Feta Cheese
2-3 Avocados, cleaned and sliced
Micro Sprouts for garnish
4 X 8 casserole dish
****You can skip the sausage, use a plant based sausage or soyrizo or use a leafy green like kale or Swiss chard if you like!
Directions
Preheat the oven to 400 F.
In a large deep Skillet heat 2-3 canola oil on Medium-High.
Saute the garlic, onion, red peppers, poblanos and jalapeños with the smoked paprika until tender.
Add the white wine and reduce until the wine is almost gone.
Stir in the tomatoes and tomato sauce.
Bring to a boil and reduce heat to medium-low to simmer, stirring occasionally for about 20 minutes.
Mix in the sausage and pour into the casserole dish.
Create small pockets and crack the eggs into the holes.
Season the eggs with salt and pepper.
I write. I rap. I run. That's pretty much it.