level 8 Laffa submitted about Jun 21, 2018
Whenever! Whatever! Ask us anything you want to ask on esports!
Hi. This is InvenGlobal. 

We would like to thank everyone who has read our articles. It means so much to us since we started off rather late compared to other Inven Korea contents. 

Although we might have not have been the 'pioneers', the InvenGlobal staff has put in the utmost effort to create quality content for our readers. We thank you again for your interest on our articles. 

Now we would like to step up and communicate more with our readers by opening a forum. If you have any questions for us, feel free to ask.

Some examples could be:

1.Would you guys do an interview with "000"(name)?

2.What kind of item builds do pro players use? 

3.Who are you guys going to interview next? 

4.A weekly posting schedule of the InvenGlobal articles. 

5.How's "000"(name, Pros or etc) doing these days? 

6.Some questions regarding Korea in general. 

7.What is the average height of the InvenGlobal staff? 

8.How can I apply for InvenGlobal?

9. What do I want to ask?


Of course we might not be able to give answers to all the questions, but we will try our best to respond and reach out to our readers.


We would like to introduce the InvenGlobal team to you while showing you how we work as a team and how we are able to quickly catch up with the fast-changing Korean esports scene.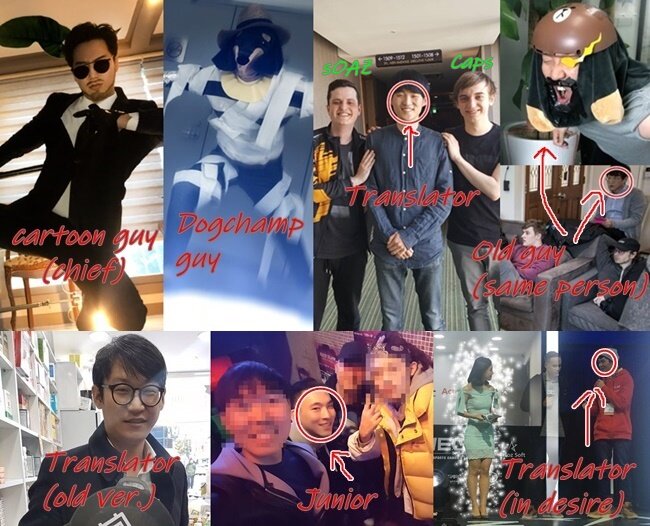 This is just a glimpse of our team. There are actually more members who work for InvenGlobal. 

Everyone is Korean; we work in Korea and LA striving to find the best topics for our articles. Most of our team members are in Korea, so we can quickly gain access on the hottest esports issues. We also cover esports/gaming events such as the LCK and the NA LCS.

We will be mostly responding between 7 PM - 6 AM (Pacific Time), but will also respond during any time we have open.

The InvenGlobal team is not just looking for ordinary "media - user" communication. As huge game fans and gamers ourselves, we would like to reach out to all the gamers in the world.

Please do not hesitate to add a post or a comment in our forums. The InvenGlobal staff will be there, ready to answer. Thank you.
15 Comments
1

Are the League pro players generally shy and reserved? Are they generally single?

Are Korean League pro players sometimes bored with the lack of kills in LCK matches?

Is it true that it's easy to get lovers and sex in Korea if you're high-skilled in games?

@basafish

Hi!

1. Some of the players are pretty shy, but it's mostly because their team tells them to stay out of trouble.

2. Well, they're generally known to be single, but most likely there are players that aren't.

3. Many players do feel bored because there aren't many kills, but they endure it because the team victory is more important. Usually the teams that don't endure lost.

4. There are plenty of high-skilled gamers in Inven (and InvenGlobal) but there are A LOT (including me) of singles.

4

Can you ask Bdd/Faker or a League pro player these questions someday: "If you could go into the League universe, which champion do you want to be?"

Is Ocelote still dreaming with the Xpeke backdoor? :P


2

Please do a live AMA with CLG Reignover !(:

1

Hey guys, thanks for all the work you do to deliver us with content that would be otherwise inaccessible. I have some questions in general, I hope that is OK.




1. What do you guys do between splits/during the offseason where are no ongoing competitions/exciting events to cover?




2. Recently Madlife retired and there were posts on Inven Global saying farewell. Do interviewers/journalists ever feel sad covering a player's retirement?





3. What is something or someone staff would like to cover/write about/interview but haven't had the chance to yet?




4. In some interviews, you mention buying food for players before beginning the interview, do you always do this? What do some players specifically like to eat?




5. I like reading the op-ed columns on Inven most, aside from the little news tidbits you can't get anywhere else (e.g. Asiad qualifiers results). I think there are probably already plans to have more of those, but anyway I just wanted to put that out there. Even though I don't really closely follow OWL I enjoy reading the articles on it still.




6. Do translators/interviews/journalists have teams they specifically root for? Can you disclose that?




7. For Korean esports players specifically there seem to be a photoshoots that are done professionally for interviews and articles. That's not really common for esports coverage elsewhere, do the players often have trouble posing for those photos?




Thanks for reading, sorry for the large amount of questions.

@jnijni

Hello! I'm Ready and I'll be answering your questions.

1. During those offseasons, we sometimes write analysis articles and/or personally meet and interview professional players. We also try to cover different games.

2. To a certain extent. However, as journalists, we keep our emotions within the boundaries of professionalism.

3. Personally, for myself, I really want to meet imaqtpie. He seems like a fun person to talk to/interview.

4. In order to create a natural talking atmosphere for the interview, we sometimes take the players out to eat. As for the 2nd part of this question, I can't seem to recall any... Well, actually, I remember that Froggen really enjoyed eating Korean-style shaved ice.

5. Thank you so much! We try our best to cover as much news/content as we can. I'm glad you enjoy them!

6. As journalists, we don't really have favorite teams, especially since we need to keep our opinions neutral when writing an article about the teams.

7. Yes. Some players are still awkward in front of a camera during photo shoots, while some players are a natural at it. Most veteran players are probably used to them now.

No problem! If you have any other questions, ask away!

Do we have a representative here for WCG? I hope they extend the registration period for those players who haven't decided yet and having a second thought
Write your comments
level 1 HanaSong Mar 31, 2019 wcg esports dota 2 warcraft

level 1 skysolstice Mar 24, 2019 esports

level 26 Nacx Mar 11, 2019

level 1 Dreamerrrr Jan 25, 2019 TpGS taiwan game PS4